Wurra Yumba Kangaroo House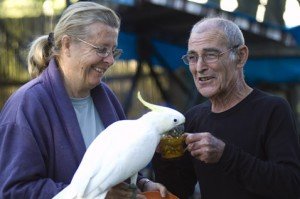 Kangaroo house is a place where animals that have been injured or orphaned come to heal and recuperate. It is completely self funded labour of love by Carol and Vince Cosentino.It is located in Scottsville which is 5km drive from the town of Collinsville which is 88kms inland of Bowen in North Queensland, Australia.
These injuries can come from a range of areas
* mother being hit by a vehicle
* animal itself being hit by a vehicle
* attacked by other animals, ie cats & dogs
* bird fallen out of nest and rejected by mother
There are always a range of animals recuperating, mainly wallabies & kangaroos (joeys) but there has also been a baby emu, bats, an eagle, a crow, and many other injured birds. Carol can let you know by email what the current animals they are looking after on request.
Contact Name: Carol & Vince Cosentino
Address: 10 Ninth Avenue Scottville Qld 4804
Phone: (07) 4785 5497
Website: http://kangaroohouse.org
Hours: 24/7